Apache Security 1ed now available from Feisty Duck
April 21, 2010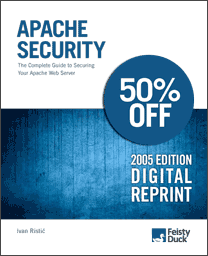 Apache Security was originally published by O'Reilly in 2005, and it was very well received. Soon after publication, it was heralded as the best Apache security resource, according to many. Contrary to my expectations, it also aged very gracefully, which is probably why it continues to be popular. As much as I wanted to release an update, I struggled for years to justify a second edition. When I finally could, it turned out that O'Reilly was not too keen on the idea.
[Note: This blog post contains the entire preface to the digital reprint edition of Apache Security. More information on the book is available from the Feisty Duck's web site.]
That was an opportunity for me to do things differently. As much as I enjoyed working on Apache Security a few years ago, the process was traditional and slow. It was a new digital age and we had all the advanced technology at our fingertips, yet we were still producing books the old-fashioned way. I wanted more. Above all, I wanted the ability to update my books whenever I felt the need. Unable to find a publisher that supported the process I wanted, I started my own publishing company. Feisty Duck, as my wife and I named it, is a publisher of computer books, with special focus on continuous publishing and digital delivery.
We are now releasing what is pretty much the original Apache Security, in digital format only, in order to establish a starting point for the second edition, which will be published by Feisty Duck at some point in the future. The known errors in the book have been fixed. If further errors are discovered, they will be fixed, too, and the digital version will be updated.
You may wonder whether the first edition of Apache Security is still worth paying for. After all, it has been five years since the first edition. Here's what I think:
The only part of the book that is completely obsolete is the ModSecurity chapter. I have only myself to blame for that, because I completely rewrote ModSecurity itself in 2006. If ModSecurity is what you're after, you should look at my other book, ModSecurity Handbook (Feisty Duck, 2010). You will find more information about it at https://www.feistyduck.com.
Chapter 10, "Web Application Security," was the best introduction to the topic at the time of the original publication. It remains a good introduction, but there have been many advances and discoveries since it was written. These days, you actually have to read several books to get decent coverage of web application security, and complete coverage is virtually impossible.
The same can be said for Chapter 11, "Web Security Assessment": it's still good, but it's just not enough any more.
The rest of the book remains pretty solid. Five years later, some aspects are not entirely accurate, but what is in the book is still very useful. You will find that the general principles of web server security haven't changed at all.
To conclude, Apache Security is still a good book, although it will no longer serve all audiences equally well. To paraphrase a recent Amazon.com reviewer, if you are at the beginner or intermediate levels, it will work for you. If you are an advanced user, it may not. If you are not sure, the best thing to do is decide by looking at the table of contents.